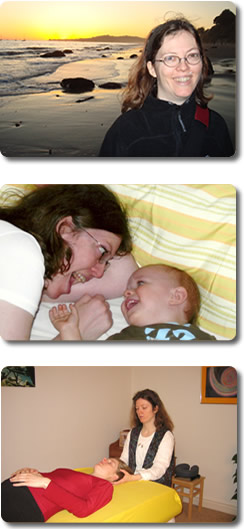 to my Practice for Craniosacral Therapy and Birth Integration in Erie, Colorado – North of Denver and close to Boulder, Longmont, and Lafayette.
As a German medical doctor with a background in Chiropractic, Osteopathy, and Trauma Therapy, I am specialized in Craniosacral Therapy. I work with people of all ages, yet the focus of my practice is Craniosacral Therapy with babies, children, and families, craniosacral work during pregnancy and birth, and Birth Integration TherapyTM.
Each child brings a special gift for his or her family and the world. We as the parents and adults can make a difference by welcoming children in a way that allows them to remember who they are, to blossom, and to unfold their talents.
Besides your love and communication, you can
support your child in this amazing journey by:
Taking care of your own health and wellbeing
Preparing yourself for conscious conception, pregnancy, birth, and parenting
Using gentle and natural therapy forms for your baby and child, before minor imbalances turn into a big problem
Getting support for you and your baby to process and resolve what happened during pregnancy and birth.
Children – and adults – who have healed and integrated their adventure of birth are free to move on, to use their strength for exploring the world and expressing themselves, and to live their life to the fullest.
I love supporting you and your family in your unique journey. The heart of my work is Craniosacral Therapy with all its layers, and Birth Integration Therapy; influenced by my profound training in both: modern medical science as well as the complementary art of healing.
In addition, I work with performing artists, especially with musicians. And I teach and supervise others in Craniosacral Therapy and Baby Language. Practitioners who work with babies, and who want to learn and experience more, in order to help their youngest clients, are also welcome to my practice.