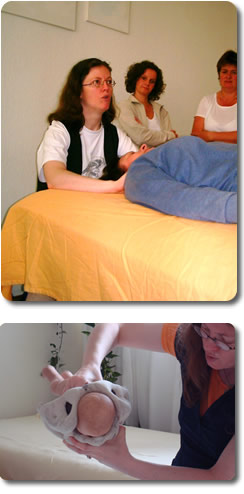 My training in pedagogy and didactics is a perfect foundation for my passion to teach. I not only love what I'm doing, I also want to share what I know. As long as I can remember I was studying and also teaching. During school, college, and med-school, I was tutoring others. I taught piano and Chiropractic. I gave lectures at medical conferences, taught Craniosacral Therapy and Birth Integration Therapy, and Wolfgang Rühle and I were the main teachers at his School for Craniosacral Therapy Berlin.
In my current practice I teach Craniosacral Therapy and Birth Integration Therapy, as well as childbirth education. I also teach parents how to communicate with their babies, before and after birth.
I offer supervision for craniosacral practitioners, and for other professionals who work with babies and children. I am available for in-person sessions as well as phone consultations. The fee for supervision is equivalent to my hourly rate of $130.
And I offer workshops to explore one's own early history and birth.
Rates for classes and workshops vary, depending on the duration of the class, the number of participants and the location. Please contact me for further information and check out my Workshops and events page for news and current classes.