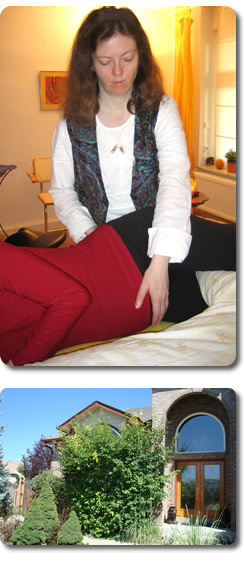 As a medical doctor from Germany, I am specialized in Craniosacral Therapy with babies, children, and families, and in craniosacral work during pregnancy and birth.
My work is influenced by training I received in different medical fields, such as Pre- and Perinatal Therapy, Chiropractic, Osteopathy, Psychology and Psychological Trauma Therapy, Traditional Western Medicine, Naturopathic and Alternative Medicine, and Energy Medicine.
Having a background of being a pianist, I also offer Craniosacral Therapy for musicians and other performing artists.
My practice is located in Erie, Colorado, about 40 minutes from Denver and near Boulder, Longmont, Louisville, and Lafayette.
The service I offer includes:
Birth Integration Therapy, including preconception counselling and preparation for pregnancy, prenatal counselling and preparation for birth, as well as labor support.
Fees
Sessions for babies and children are usually 60 minutes long and cost $130.
The first session for adults is a 90 minute session and costs $195. Afterward, we can decide together which timeframe would best support you in the future. If you want to work primarily on emotional topics or trauma healing, longer sessions are recommended. With the focus more on classic craniosacral work, 60 minute sessions work well.
The sessions take place in my practice in Erie, where you enjoy the comfort of a healing atmosphere and a special massage table, and where I provide different toys and materials for your child to express his or her birth story, as well as medical models to look at and learn from.
If your newborn child needs help during the very first days after birth and it is too early to travel, I can come to your place for the first treatment. Rates may vary on a per case basis.
Please contact me if you or your child are in need of Craniosacral Therapy, but you truly don't have the money. I'm willing to discuss payment plans or other arrangements.
In my experience of working with families, preserving your child's health and wellbeing from the beginning, as well as preventive care for you and your family, not only helps you to enjoy better health, but can also save you a lot of money in health care.
How many sessions are necessary?
The number of sessions needed and the best interval between sessions depend on your intention and goal, as well as on your overall health. After the first session with you or your child I will have a better idea about what you wish for and how you or your child are responding to the treatment. I then can make a suggestion about the overall treatment plan and we can decide the details together.
Often children need fewer sessions than adults, and acute situations usually need fewer sessions than chronic illnesses.
Some problems may be resolved in just one session, whereas a series of multiple sessions allows for working through deeper levels of an illness, injury, or experience, and you will be able to achieve your goals by reaching a more profound understanding about your personal path of healing, or parenting, or being.
In some circumstances it is beneficial to plan regular treatments over a longer period of time, for example in supporting your premature baby in his or her early development, or in offering complementary treatments for your handicapped child.
With children in general it has proven effective to do a follow up session at times of major changes, such as the start of kindergarten or school, or during developmental steps, such as starting to crawl or to walk.
Some adult clients enjoy sessions on a monthly basis, because the gentle approach of craniosacral bodywork helps them to stay healthy and balanced.
Please contact me if you have any questions or want to schedule an appointment.  I am looking forward to hearing from you.